Cinema Magazines for Sale
I have hundreds of copies of issues of numerous film magazines for sale, including: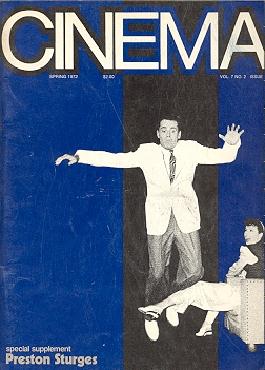 American Classic Screen / American Film / Films in Review / Cinema / Film Comment / Sight & Sound / Take One
and many others.
Many (although not all) of these are now listed in my on-line inventory (and are thus findable through the Search function back on the Home page). You can search by title, or browse through the category "Cinema: Periodicals." If you don't see what you want, however, I welcome your direct inquiry via e-mail.
There are also some special terms with regard to these, which will be applied when I process any order placed through this site:
Shipping:
Media Mail $3 for first magazine + $1 for each additional up to a total of 5; above that quantity I'll quote.
Priority Mail $6 for first + $2 for second; no additional charge for more, as long as the entire quantity will fit into a flat rat box.
Overseas shipping at cost (more or less); I will quote available options when responding to your inquiry.
Quantity Discounts:
Here's the deal: I've got way too many of these things, and am interested in selling them off in groups whenever possible. The prices shown are for individual issue sales, and are firm; however, when you start buying more than just one at a time, here's the discount schedule (shipping charges excluded)
2 issues: 10% off total price
3-5 issues: 20% off total price
6 or more issues: 30% off total price