You must allow cookies and JavaScript for a proper shopping experience.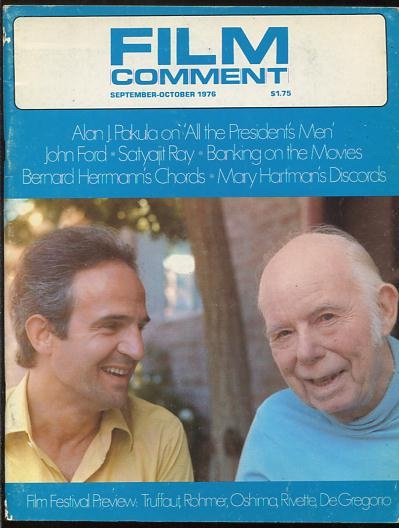 Price: $20.00
Publisher: New York, The Film Society of Lincoln Center : 1976
Edition: (Vol. 12, No. 5)
Seller ID: 25386
Binding: Magazine
Condition: Very Good
---
[clean copy, light rubbing to covers, a little wear at spine ends (possibly a touch of insect-nibbling)]. (B&W photographs) In this issue: a discussion of the films of Alan J. Pakula, together with an interview with Pakula about ALL THE PRESIDENT'S MEN; "Banking on Movies," articles by Stuart Byron and Patrick McGilligan on the topic of film financing; analysis of Jacques Rivette's DUELLE, by Jonathan Rosenbaum; an interview with Eduardo de Gregorio, about SERAIL and the influence of Rivette; an interview with Francois Truffaut, about his film SMALL CHANGE (L'ARGENT DE POCHE); analysi...
View More...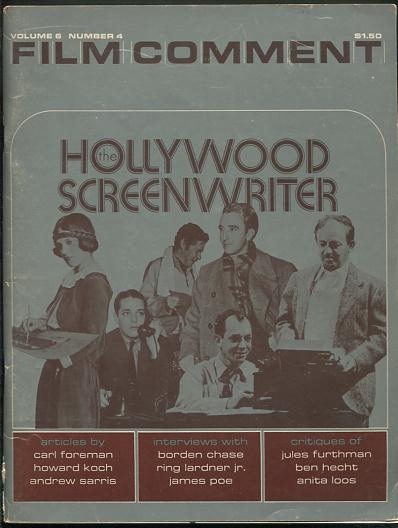 Price: $25.00
Publisher: New York, Film Comment Publishing Corp. : 1970
Edition: (Vol. 6, No. 4)
Seller ID: 20631
ISBN: NO
Binding: Magazine
Condition: Very Good
---
[some scuffing/rubbing to covers, moderate to heavy wear along spine (spine staples still holding firm)]. (B&W photographs) A special issue devoted to screenwriters, this was essentially the editor's opening salvo in his crusade to provide a corrective to the so-called "auteur theory," which exalted the director as the primary filmic creator, and which had taken firm hold in American film criticism during the 1960s thanks largely to the writings of Andrew Sarris. Corliss takes on Sarris and the auteurists directly in his introductory essay, while at the same time tweaking their noses...
View More...