You must allow cookies and JavaScript for a proper shopping experience.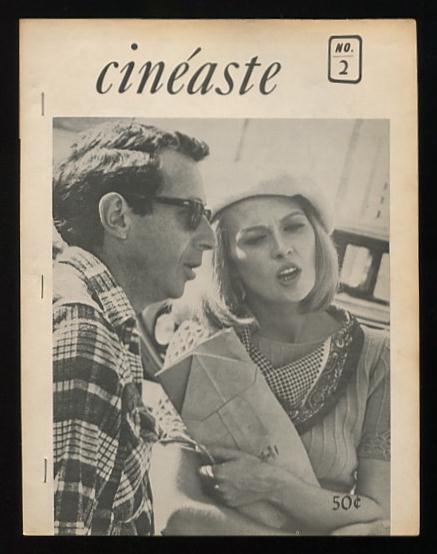 Price: $100.00
Publisher: New York, Cineaste Magazine : 1967
Edition: (Vol. I, No. 2)
Seller ID: 26307
Binding: Magazine
Condition: Very Good
---
[several small nicks and chips in the edges of the rear cover, also slightly affecting the upper edges of the last several pages in the magazine; the pages are also somewhat age-toned (although printed on toned stock) and a bit fragile]. Early issue of this long-running critical/political film magazine. Contents include: "Film Study in Colleges," by Bernard R. Kantor; "Pauline Kael -- Film Critic with a Chip on Her Shoulder," by Richard Ayers; "What Do We Mean by Widescreen?" by Tony Shapps; an analysis of BONNIE AND CLYDE, by Paul Glushanok; "Amateurs and Animation," by Marjorie Lenk; a l...
View More...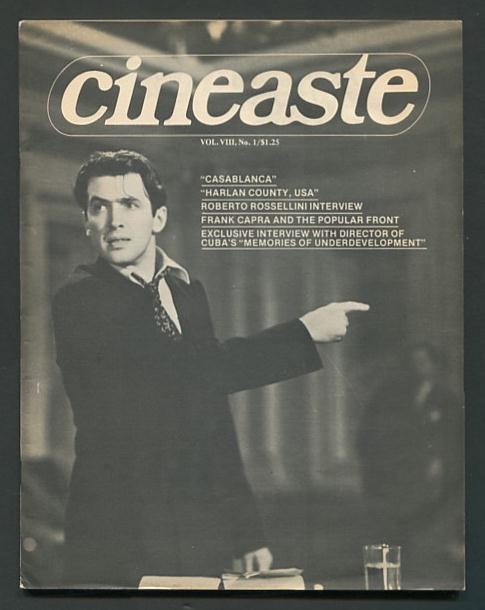 Price: $20.00
Publisher: New York, Cineaste : 1977
Edition: (Vol. VIII, No. 1)
Seller ID: 27940
Binding: Magazine
Condition: Near Fine
---
[nice clean copy, very slight wear at corners, light discoloration (age-toning) along left edge of rear cover]. (B&W photographs) Feature articles: "Frank Capra and the Popular Front," by Leonard Quart; an article about the influence in U.S. critical circles of the 1973 Cuban film MEMORIES OF UNDERDEVELOPMENT; the transcript of a program discussing production and distribution issues related to three documentary films, HARLAN COUNTY U.S.A., UNION MAIDS and ON THE LINE. Interviews with: Tomas Gutierrez Alea; Barbara Kopple and Hary Perry (about filming HARLAN COUNTY U.S.A.); "Oscar" (the Acade...
View More...