You must allow cookies and JavaScript for a proper shopping experience.
Price: $75.00
Publisher: New York, Grosset & Dunlap : [1934] (c.1924)
Edition: First Edition Thus
Seller ID: 27843
Binding: Hardcover
Condition: Very Good in Very Good dj
---
[modest wear to book extremties, minor soiling to edges of text block; the jacket shows some wear, and a few small nicks, along the top and bottom edges, with some minor creasing at the bottom edge of the front panel, light soiling to the rear panel, moderate fading to the spine]. (B&W photographic endpapers) Photoplay edition, a tie-in with the 1934 M-G-M film adaptation, entitled OUTCAST LADY, which starred Constance Bennett (who another bookseller offering this title seems to think is Marlene Dietrich) and Herbert Marshall (he of the wooden leg), and was directed by Robert Z. Leonard. Thi...
View More...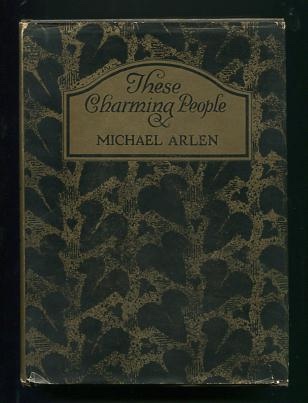 Price: $100.00
Publisher: New York, George H. Doran Company : (c.1924)
Edition: 2nd printing ("B")
Seller ID: 18342
ISBN: NO
Binding: Hardcover
Condition: Very Good+ in Very Good dj
---
[solid copy, light shelfwear, minor fading to cloth; jacket shows wear along top and bottom edges, a few shallow chips and tiny tears, horizontal crease near top of front panel]. "The author calls his book 'a tapestry of the fortunes, follies, adventures, gallantries of a certain lovely lady and her friends and companions in this tale.' ... Mischievousness, then, is the delicate and all-important ingredient in this account of some fashionables of Mayfair." A collection of interconnected short stories (a few with fantasy/horror elements), it was published in England in 1923, a year be...
View More...