You must allow cookies and JavaScript for a proper shopping experience.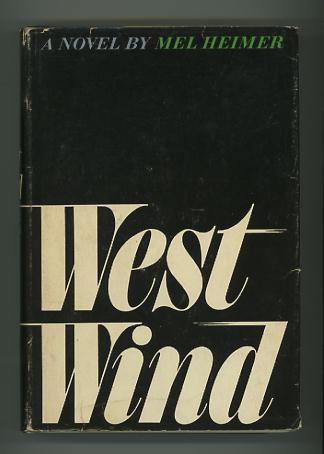 Price: $10.00
Publisher: New York, Trident Press : 1964
Edition: First Edition
Seller ID: 14028
Binding: Hardcover
Condition: Very Good+ in Very Good dj
---
[solid copy, spine very slightly turned, lower front corner faintly bumped; jacket is edgeworn, rubbed, tiny tears at a couple of corners]. "When Richard Fletcher and Wilhelmina Stevens went to Rome together to make a motion picture, newspaper readers on two continents, already titillated by rumors that they were having an affair, avidly followed their every move. Then Fletcher, the most highly regarded actor of his day, was mercilessly set upon in an alley by unknown assailants and left for dead." (Thugs hired by Eddie Fisher?) One of those "Hollywood novels" that mostly ta...
View More...
Price: $200.00
Publisher: New York, Duell, Sloan and Pearce : (c.1960)
Edition: First Edition
Seller ID: 21243
ISBN: NO
Binding: Hardcover
Condition: Near Fine in Near Fine dj
---
[a nice clean book with no sigificant wear, just the slightest bumping of the upper corners; the jacket has a couple of short closed tears in the top edge, and is a bit faded along the spine]. Very scarce biography (in the form of a novel) about George H. Smith (1862-1905), a legendary gambler and horse-racing enthusiast who was nicknamed "Pittsburgh Phil." Described in the jacket blurb as "the ace of gamblers -- the coolest, most daring, most dazzlingly successful bettor and horse player America has ever known," he was a pioneer in the development of handicapping horse races, and at the time...
View More...