You must allow cookies and JavaScript for a proper shopping experience.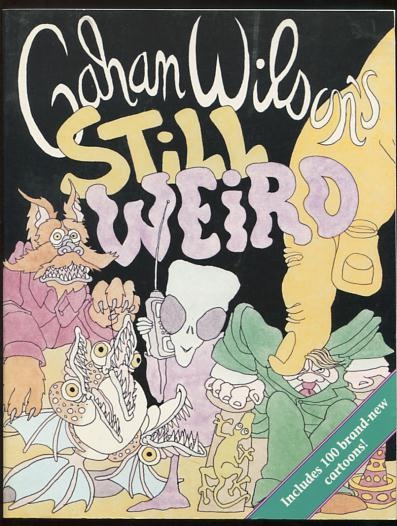 Price: $200.00
Publisher: New York, Forge/Tom Doherty Associates : 1994
Edition: 1st Edition (softcover issue)
Inscription: Signed by Author
Seller ID: 24436
ISBN-13: 9780312857790
Binding: Softcover
Condition: Near Fine
---
[nice-looking book, with just a touch of surface wear to the covers, slight bends to bottom corners of about a dozen pages near the end of the book]. Trade PB (cartoon drawings) INSCRIBED and SIGNED by the author/cartoonist on the inside front cover: "To _____ / with my best wishes / Gahan Wilson"; accompanying the signature (and together with it covering the entire page) is a rough drawing of a lightning bolt, and at the bottom right is a small drawing of a woman with a thought balloon over her head, thinking "What a neat wallpaper that would make!" This book, "Wilson's first major collecti...
View More...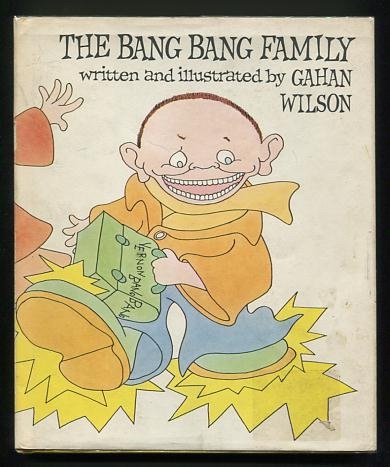 Price: $40.00
Publisher: New York, Charles Scribner's Sons : (c.1974)
Edition: First Edition
Seller ID: 22253
Binding: Hardcover
Condition: Near Fine in Very Good dj
---
[minor bumping and slight wear to bottom corners of book; jacket moderately soiled, with a bit of damage (small scraped area and puncture tear) to spine (obliterating most of THE in title), short closed tear at to of rear panel, faint shadow of removed price sticker on front panel]. Described in the jacket blurb as the author's "first picturebook for children," this freakishly-illustrated tale features the chronically noise-making titular family -- with parents who appear to have serious rage-management issues. (The term "nuclear family" might take on a little extra meaning when applied to th...
View More...